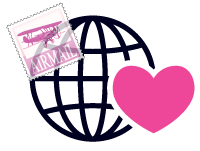 Yes! We do ship worldwide.
Orders are shipped out within 1-2 business days from purchase
Most of our shipments in Canada and the United States arrive fairly quickly and are always sent with a tracking number. Typical shipment times are around 5 business days in North America.
Please keep in mind that during the winter months, sometimes shipments are delayed due to weather at certain postal sorting hubs.
Everywhere else: We use DHL for the rest of our international orders. We used to have a cheaper shipping rate that did not include tracking, until one time where the shipment went missing (and that really sucked!). Now everything is sent with DHL so it can be tracked. We do cover part of these shipping costs because we want you to have sparkles! Shipping times for everywhere else by DHL is generally 7-10 business days (but often it's faster).
... see where we've shipped to:
Save
Save
Save
Save
Save
Save
Save
Save